Travels with Mountain Bikes – Preparation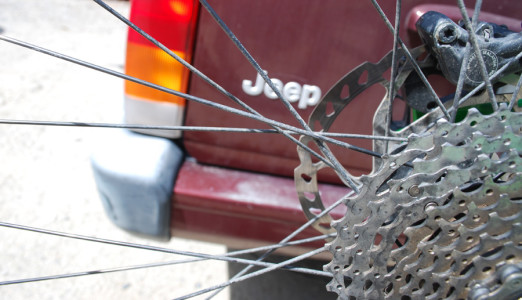 "When the virus of restlessness begins to take possession of a wayward man, and the road away from Here seems broad and straight and sweet, the victim must find himself good and sufficient reason for going."
-John Steinbeck, Travels with Charley
Our reason is mountain biking, and much like Steinbeck as he set out in search of America in 1960, we'll be searching for great mountain bike trails and the people and communities that support them.
With less than three weeks until our departure date, our lives are buzzing with preparation. A new bike rack was ordered and has arrived. Vehicle agreements are being finalized, campsites (at least for the first few nights) are being nailed down, and routes are being reviewed over and over again.
But most of all the thrill of adventure is beginning to take hold for my husband and me. We plan to head to Moab, Utah first. We will then travel to Fruita, Colorado before pushing on through Kansas and Missouri, stopping next for some biking and great barbecue in Nashville. Next stop, Asheville and Brevard, North Carolina to meet up with friends and explore this spot that everyone is raving about. We will then start heading back west, stopping for riding at Herb Parsons Mtn and Nesbit Park, as well as a visit to Graceland in Memphis. Last but not least, we will stop for some riding near Hot Springs, Arkansas.
And we plan to do it all in just over two weeks.
Follow our adventure on Twitter and Instagram — #travelswithmtnbikes, and please give me a shout if you are a bike enthusiast in any of these areas.